>> Thursday, August 13, 2009
I found several goodies this week!

First off, I'll start with a couple of blogs I stumbled across that I LOVE.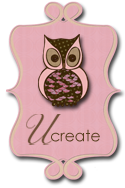 The first is
U Create
. Or Ucreate. I'm not sure if there's a space or not, but either way, this is a really fun blog! Lots and lots and lots of project inspiration, craft ideas, etc. She features her favorite ideas from a ton of different blogs, so it's like finding the best of the best projects, all in one place. LOVE IT. Here's a link to her post about
felt food tutorials
. Yummy!
My other new favorite is
A Penny Saved
. I honestly think I read almost every post she has written when I found her blog. I just couldn't stop; she has such good stuff on there! She's lived in and fixed up a few different houses in the last few years, and she does it all inexpensively!
That's my kind of girl!
This post about making
roman shades out of mini blinds
is one of my favorites!
Another blog I found this week is
Cluck Cluck Sew
. I didn't look through the entire site, but I did spend a while looking at the "My Finished Quilts" link.... Ahhhh...I am inspired. Seriously. After looking at this blog I've decided I want to make twin sized quilts for each of my kids for their 2nd birthdays (for moving up to big kid beds!). Not to mention baby blankets! I was also really interested in the quilts because my BFF is coming to visit in a few weeks and I think we're going to start a quilt that's she's making for her soon-to-be-fiance's birthday. We may do something similar to this:
Go check
this quilt
and
all of her others
out!
Here are some more of my favorites this week:
Clothespin frame
@ A Thousand Words. How clever! You could do this as a recipe card holder in the kitchen! Love.
Felt mustache
@ Little Birdie Secrets. This is an old post, but I found it again this week, and thought it was super fun!

Felt food Flickr Group
, because apperently I'm on a felt jag this week!